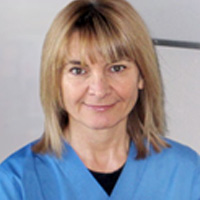 Angela Olaru
Dra. en Atención Primaria, UIC, Barcelona, España
Doctor of Chiropractic, SCU, LACC, USA
BSc Human Biology, SCU, USA
En los últimos decenios se han publicado diversos artículos científicos que demuestran una importante relación entre la oclusión dental y algunas patologías de la columna vertebral.
Un equipo de quiroprácticos y odontólogos italianos, publicaron en los años '90 un estudio llevado a cabo con adolescentes que demostraba una estrecha relación entre la oclusión dental incorrecta y el desarrollo de la escoliosis.[1] Los investigadores encontraron que la oclusión dental incorrecta altera la biomecánica de la columna vertebral creando 'estrés descendente'. El termino se refiere a una alteración biomecánica que desciende desde arriba (boca), hacia abajo (columna).
Se produce debido a contactos incorrectos de las cúspides dentales, que suelen aparecer como consecuencia de trabajos dentales: ortodoncia, extracciones, empastes, fundas, implantes. También pueden aparecer a causa de bruxismo nocturno (rechinar de dientes).  En presencia de contactos dentales desiguales, cuando deglutimos, los músculos masticatorios se contraen de manera asimétrica.
La deglución – tragar la saliva – es un reflejo autónomo como la respiración. Significa que no podemos pararlo voluntariamente excepto durante pocos minutos. Visto que deglutimos miles de veces cada día y cada noche, la desigualdad de contracción de los músculos masticatorio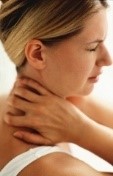 s
desciende, creando contracción asimétrica en los músculos suboccipitales (de la nuca) y en los paravertebrales (que se insertan en las vértebras). Consecuentemente algunas vertebras pierden su alineación normal, se giran o, se inclinan hacia la parte donde los músculos tiran más.
El mayor impacto lo tienen las vértebras cervicales. Como consecuencia se rectifica la lordosis cervical, se inclina la cabeza y aparecen contracturas, dolor cervical, cefalea o migraña.[2] [3]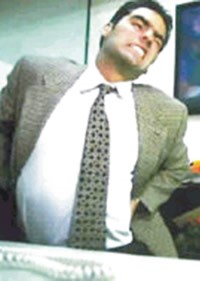 Al mismo tiempo, debido a que los músculos paravertebrales están envueltos en la misma funda, llamada 'fascia muscular', una contractura cervical afecta también la columna dorsal, lumbar y la pelvis. Suele aparecer una escoliosis compensatoria y frecuente dolor de espalda.
De hecho, en nuestro centro quiropráctico, encontramos frecuentemente casos de pacientes cuyo dolor de cabeza, de cuello o de espalda eran consecuencia de una mala oclusión dental.
[1] Guaglio, G., Seru, P.P., Zucchi, E., Disgnazie come causa di scoliosi, in "Bollettino d'informazioni Qrtodontiche", n. 12, Firenze, Aprile 1991.
[2] Eur J Oral Sci. 2001 Apr;109(2):76-80. Prevalence of cervical spinal pain in craniomandibular pain patients. Visscher CM, Lobbezoo F, de Boer W, van der Zaag J, Naeije M.
[3] BMJ. 2012 Oct 17;345:e6892. doi: 10.1136/bmj.e6892.Dental occlusion problems are a major cause of headache.Kilcoyne A.